Spotify's Contributions to RecSys 2021

September 30, 2021 Published by Spotify Research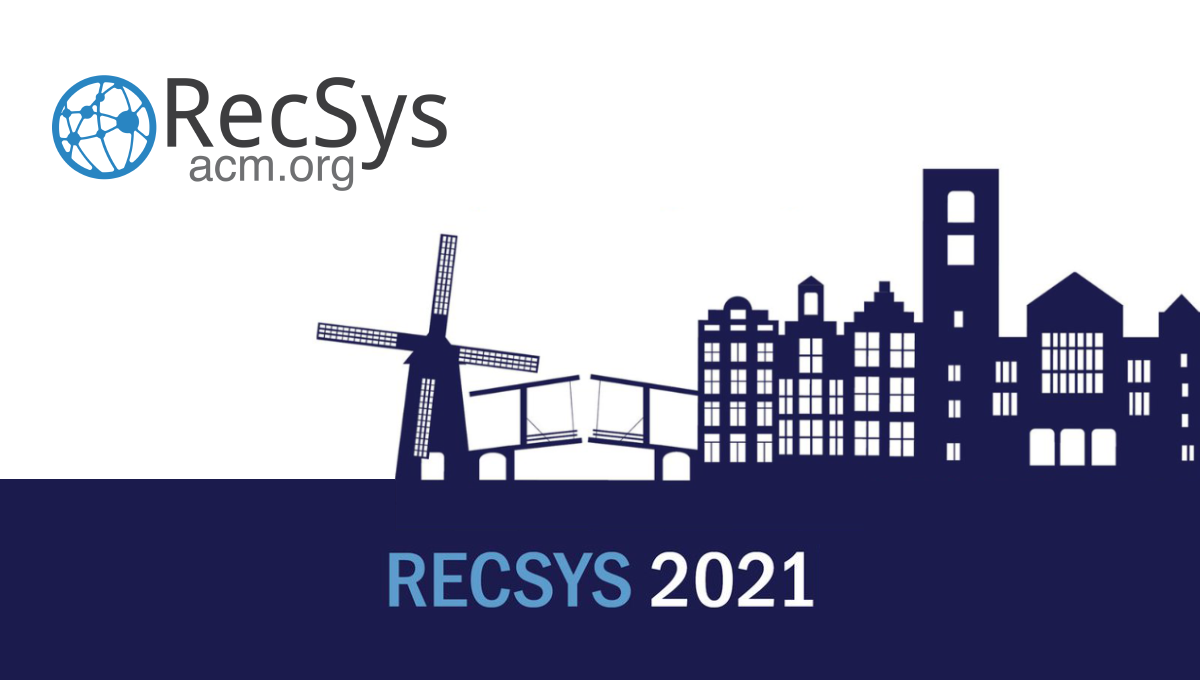 The 15th International ACM Conference on Recommender Systems (RecSys 2021) starts this week, and Spotify is excited to be a Gold sponsor of the event.
Spotify is hiring a number of different positions spanning Machine Learning, Data Science, Data Engineering, and Tech Research. Interested in #JoiningTheBand? Have a look at our careers page here and let us know you've applied!
Our Spotify booth will be open for meetup at 17:30 CEST on 30 September 2021, accessible via the event online hub. Please join us to hear more about the work we are doing at Spotify.
Agenda / Activities
Saturday, September 25, 2021
Workshop: MORS 2021: 1st Workshop on Multi-Objective Recommender Systems
Organizers: Himan Abdollahpouri (Spotify), Mehdi Elahi (University of Bergen), Masoud Mansoury (University of Amsterdam), Shaghayegh Sahebi (SUNY Albany), Zahra Nazari (Spotify), Allison Chaney (Duke University), Babak Loni (ING Group)
Workshop: Perspectives on the Evaluation of Recommender Systems
Speaker: Ben Carterette (Spotify)
Sunday, September 26, 2021
Workshop: PodRecs 2021: 2nd Workshop on Podcast Recommendations
Organizers: Ching-Wei Chen (Spotify), Rosie Jones (Spotify), Zahra Nazari (Spotify), Longqi Yang (Microsoft), Maria Eskevich (Clarin ERIC), Gareth Jones (Dublin City University), Sergio Oramas, (Pandora-SiriusXM)
Keynote speaker: Rosie Jones (Spotify)
Monday, September 27, 2021
Session 3: Metrics and Evaluation (18:00 – 19:30 CEST)
Conference paper: Accordion: A Trainable Simulator for Long-Term Interactive Systems
James McInerney (Netflix Research), Ehtsham Elahi (Netflix), Justin Basilico (Netflix), Yves Raimond (Netflix), Tony Jebara (Spotify)
Thursday, September 30, 2021
Workshop: FashionxRecSys: Workshop on Recommender Systems in Fashion and Retail
Organizers: Shatha Jaradat (KTH Royal Institute of Technology, Sweden), Nima Dokoohaki (Accenture AI), Humberto Corona (Spotify), Reza Shirvany (Zalando)
Saturday, October 2, 2021
Workshop: XMRec: Workshop on Cross-Market Recommendation
Keynote speaker: Ben Carterette (Spotify)
Panel discussion: ​​Rahul Bhagat (Amazon), Ben Carterette (Spotify), Elisabeth Lex (Graz University of Technology, Austria), Max Harper (Amazon)
Workshop: CARS – Workshop on Context-Aware Recommender Systems
Keynote speaker: Lucas Maystre (Spotify)
Roles
Humberto Corona Pampin – General co-Chair
Jean Garcia-Gathright – Industry Day co-Chair